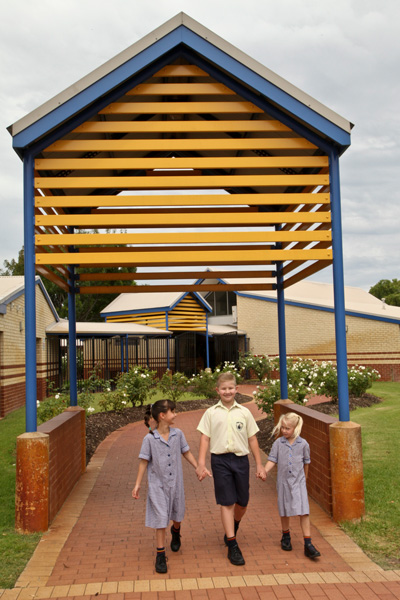 In the growing community of Cockburn, Mater Christi Catholic Primary School is a three stream primary school catering for boys and girls from Pre-Kindy (3 yr old) Kindy and 4 yr old Kindy to Year Six that offers a learning environment that promotes a sense of self-worth within each child.
Located at the end of a peaceful and picturesque cul-de-sac adjacent to Yangebup Lake, this modern, well-resourced school offers an excellent education, provided by capable, caring and committed staff who ensure a high level of pastoral care and quality education is achieved.
In addition to core curriculum, there is explicit and successful teaching of literacy and numeracy in all classes. Our Catholic faith is taught in every class according to the religious education guidelines for western Australian Catholic schools.
Mater Christi also offers specialist teachers in Science, Drama, Music, physical Education, LOTE (Italian), and Enrichment. A comprehensive Learning Support program is effective across all classes. An active extra-curricular activities program is in place across performing arts, community giving and sports.
Facilities include wonderful playgrounds, oval, courts, a well-resourced library, innovative Learning Hub (technology-rich learning area), a dedicated science room and well-equipped, fully air-conditioned classrooms that are brought to life through the work of the children and by utilising the latest Apple technology to help facilitate effective learning with our 4yo Kindy through to Year 6 classes.
We also cater for the whole pre-primary and primary school experience for our families, offering before, after and vacation care on site.
Our Parents and Friends Association is an active element of our school culture, focusing on supporting the school in its endeavours by funding resources, building community among its members and empowering parents.
Underpinning all we do at Mater Christi is our advocacy for Making Jesus Real of 'MJR'. In practical terms, it is more a way of living, of being a Christ=like presence to each other, responding to each other with respect both within and beyond our school community.
FEEDER SCHOOLS
Our students mostly attend one of the following schools are completing Year Six:
Emmanuel Catholic College, Success (our main feeder school); Corpus Christi, Bateman; Seton Catholic College, Samson; CBC Fremantle; Iona College, Mosman Park; Trinity College, Perth and Mercedes College, Perth.