The uniform shop is located onsite but operated by Perm-a-Pleat and is open during term on a Wednesday 8-10.30am and 1.20-3.20pm.

All components of the uniform must be purchased at the uniform shop (except shoes/sandals) :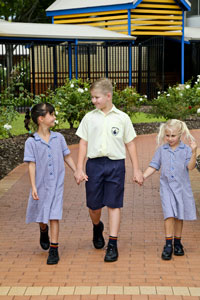 The way the uniform is worn makes a statement about our school. At all times students are to wear the uniform with pride and respect for all that it symbolises:
Uniform for Early Childhood
Pre-Kindy and Kindergarten children are not required to wear school uniforms however they are encouraged to wear "I'm a Mater Christi Kid" t-shirts which is available from the uniform shop. Children also need to be dressed in practical clothing suited to the activities that take place in these year levels.
Uniform for Pre-Primary
Pre-primary students are expected to wear the following uniform at all times:
Faction t-shirt with school crest
Blue shorts
School tracksuit
Royal blue school bucket-hat
School bag
Uniform for Years 1-6
UNIFORM
All students
 
 
Royal blue school 'bucket hat'
Mater Christi school bag (Years 1-6)
Sports Uniform: All students
 
Faction T-shirt with school crest
Blue shorts (or pleated skirts)
Sports briefs (worn with skirts)
School tracksuit – zip up jacket with school logo and tracksuit pants
White sports socks with school logo
Predominantly white sports shoes
Girls Summer Uniform (Terms 1 & 4)
Girls Winter Uniform (Terms 2 & 3)
Boys Summer Uniform (Terms 1 & 4)
Boys Winter Uniform (Terms 2 & 3)
Summer Dress – button style
School jumper
Short sleeve lemon shirt with school crest
School jumper
School navy socks with red and yellow stripe
Black lace up school shoes
Navy college shorts
Black lace up school shoes
Black-lace up school shoe
Pleated skirt
School navy socks with red and yellow stripe
Navy college shorts or navy college trousers
Tartan tie (Years 4-6)
Black-lace up school shoes
Tartan tie (Years 4-6)
Short sleeve lemon shirt with school crest
Short sleeve lemon shirt with school crest
School navy socks with red and yellow stripe
School navy socks with red and yellow stripe
Navy tights (optional)
Navy scarf (optional)