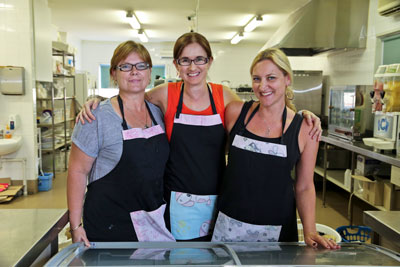 Welcome to Materina Canteena, your Mater Christi Canteen.
A LITTLE BIT ABOUT US:
Name:   Heidi Mann
Role:      Canteen Manager
Commenced Role: 2008
Qualified: Chef
Other important job: Mum to Annie (Year 5)
Name:   Joh Perez
Role:      Canteen Assistant
Commenced Role: 2011
Other important job: Mum to Zoe (Year 3)
A LITTLE BIT ABOUT MATERINA CANTEENA:
Our canteen operates from 8.30am Wednesday through to Friday and we offer:
the traditional lunch bag orders or
the ease of online ordering, giving you certainty with your child's food choices and efficient payment. (http://www.mcps.wa.edu.au/online-ordering/)
Heidi is a qualified chef and together her and Joh and personally make most of the items on the menu including the lasagne, spaghetti, fried rice and macaroni cheese etc. No pre-packaged meals! These hearty and healthy meals are available Wednesday, Thursday and Friday.
There have been small changes to the menu and our decision to start using and supporting Malones Meats (local to Cockburn Gateways and our school community) for our sausage rolls has been very popular, and gives your children access to a far superior product! This is available on Fridays only along with other pastry items and is rated amber.
The traffic light coding
Mater Christi, like many other school canteens, follows the WA Nutritional Guidelines or Canteen Traffic Light System which promotes healthy eating in schools. Put simply the philosophy is:
fill up on GREEN
limit AMBER
exclude RED.
To further assist you and your child in their canteen menu choices, we have updated the menu to reflect the traffic light coding. Further information is also available at: http://www.waschoolcanteens.org.au/menus/nutritional-guidelines/.
If you have any questions about our food or would like to volunteer in the canteen or just want to say hello please come and see us in the canteen or contact us via school reception or at admin@mcps.wa.edu.au and please keep on supporting your school canteen.
Heidi and Joh