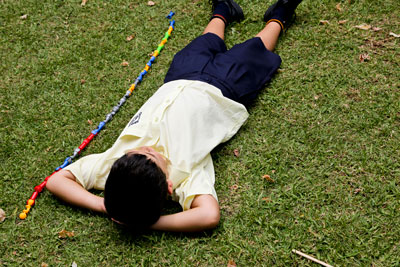 Evaluation and reporting are important elements in the teaching/learning process.
Teachers provide written reports at the end of each semester for children in Four Year Old Kindergarten through to Year 6. In Kindy work samples are sent home throughout the year and are placed in a "Making Memories Work-Sample" folder. The collection of work-samples is an illustration of the child's learning journey throughout the kindergarten year. It is intended as a snap shot of their participation at Kindy. It acknowledges process as well as end product. Through these opportunities children will acquire key fundamental skills needed for their future schooling.
Parent-teacher interviews at the end of Term 1 provide an opportunity to share information regarding the child and their development and in Term Three parents are invited to our Learning Journey evening to take a tour of their child's classroom and specialist areas throughout the school to view some of their child's work and share in their learning journey.
NAPLAN
NAPLAN, an assessment of literacy and numeracy, is undertaken annually by all Year 3, 5, 7 and 9 students throughout Australia.
In Primary schools, NAPLAN is made up of two assessment areas covering:
Literacy
Reading
Writing
Language conventions
Numeracy
Number
Algebra, function and pattern
Space
Measurement, chance and data.
Mater Christi Catholic Primary School 2018 Compliance Data report is prepared as a requirement for the Federal Government and is available for your information:
2022 Annual School Performance
Annual School Improvement Plan 2018