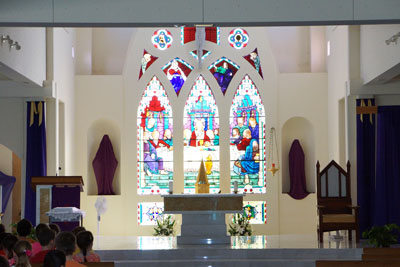 Mater Christi Catholic Primary School is a parish based school and, together with Mater Christi Parish, Yangebup, we focus on educating the whole child.
The Parish supports the faith development of the students at Mater Christi through whole school masses and liturgies of the word.
The Catholic children also receive the Sacraments of Reconciliation (Year 3), First Holy Communion (Year 4) and Confirmation (Year 6). By the nature of their mission and mandate, Mater Christi Catholic Primary School supports families and the Parish in the preparation of children to receive the sacraments.
Contact details
340 Yangebup Road
Yangebup WA 6164
PO Box 5129
South Lake WA 6164
Phone 08 9417 4763
Web: http://www.materchristiparish.com/
Mass Times
Saturday - 6pm
Sunday - 8am, 10am, 5pm
Weekdays - 9am every day except 6pm Tuesday
Reconciliation
Saturday - 5pm
Any variations on the above times are advertised in our bulletin.