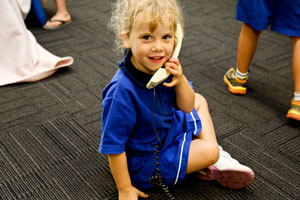 Throughout the year a variety of methods are used to communicate between student, parents and staff including:
Parent Information Evening- Beginning of Term 1
Parent Teacher Interviews- End of Term 1
Newsletter - Weekly (Friday)
Communication Diary - Weekly
Academic Reports - End of Term 2 and 4
Portfolios - End of Term 3.
Planning and scheduling is done well at Mater Christi and we share that information (term dates; term calendar along with our Parent Information/handbook) with our families in a timely fashion.
How to get the newsletter
We recognise that different people have different preferences when it comes to communication so we offer the school newsletter here via the web, hard copy from the office (limited numbers only) and directly via the Skoolbag App each Friday afternoon.
What is Skoolbag?
Skoolbag provides schools with an easy way to tell parents/carers everything they need to know, and it provides parents with the most convenient way to receive school notifications. No more lost paper in student school bags!  School newsletters, school notices and alerts are communicated directly to the parent smartphone through the Skoolbag school Mobile App.
Class notes or specific parent communication will be sent home with the students so please check bags regularly to keep up to date.
Assemblies
Assemblies are conducted according to the term planner usually on a Friday morning at 9am and are held in the Mater Christi Community Centre. Notices are read, merit awards distributed, birthdays announced and classes have the opportunity to show work &/or entertain the school community on a rostered basis.