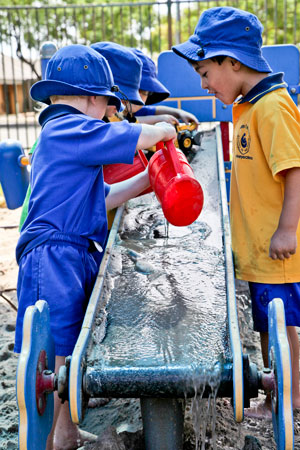 At Mater Christi Catholic Primary School we offer high quality Early Childhood education for children from the age of three years.
The Early Childhood Programme embodies the six areas of learning which form an essential component of all curricular planning including:
Personal, social and emotional development
Communication, language and literacy
Problem solving, reasoning and numeracy
Knowledge and understanding of the world
Physical development
Creative development
Early childhood educational programmes are formed around the Australian Curriculum and the Early Years Learning Framework, providing a balance between educationally play-based and structured learning for the children.
The Early Years Learning Framework is based around five Principles:
Secure, respectful and reciprocal relationships
Partnerships
High expectations and Equity
Respect for Diversity
Ongoing Learning and Reflective Practice
The main aim of the Early Years Programme is to provide a happy, secure and motivating environment which is developed by:
Allowing children to have a strong sense of identity and well-being
Encouraging and facilitating the growth of the child physically, emotionally, socially, intellectually and spiritually.
Giving children opportunities to feel confident and take control of their learning
Children becoming effective communicators
Children being connected with the school and wider community
Play education is very important for the development of children, as it requires active involvement. The children will interact in teacher initiated or directed activities, free play and discovery learning.
The programme takes into account each child's aptitude to learn through different forms of activity, in particular through active involvement and play. We aim to develop a positive attitude to learning and for children to see learning as enjoyable and something they can directly influence. The Early Childhood Programme always makes room for spontaneous learning as play is fundamental to a young child's learning and is used positively to develop children's abilities across a wide range of activities.
Pre-Kindy
Pre-Kindy is an educational program for children aged three years.
The program is play-based and provides children with meaningful experiences that promote the development of spiritual, social, emotional, language, intellectual, creative and physical skills.
Mater Christi staff create a caring, safe and stimulating environment that will nurture your child's disposition to wonder, explore and construct meaning about the world.
Kindy
At Mater Christi Catholic Primary School, our Kindy programme offers a wonderful learning experience where children are challenged and engaged in the learning process. It is available for children who turn four years of age prior to 1 July in the year they are due to commence Kindy.
Pre-Primary
Pre-Primary is the beginning of full time schooling in Western Australia and at Mater Christi we focus on:
Providing a happy, caring, stimulating and supportive environment where the children will feel secure and enjoy being within that environment
Providing a class environment that values and promotes the uniqueness of each child, with an emphasis on self-development and social interaction.
Providing a program that caters for a wide range of developmental abilities and interests, allowing children to develop to their fullest potential
Providing time for children to discover, explore, question and experiment to encourage them to implement their creative thoughts, develop skills and learn
Play education for the development of children, as it requires active involvement. The children will interact in teacher initiated or directed activities, free play and discovery learning.