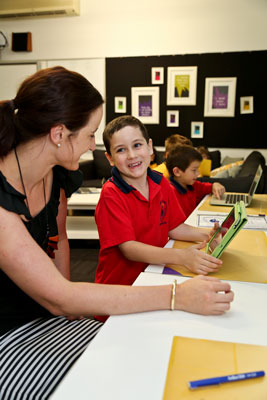 Enrichment takes place within the individual classroom setting by the classroom teacher. It provides opportunities for access to new and more challenging concepts or content or alternatively provides for the revision of key concepts and skills.
Early Intervention and Learning Support Programs
Learning Support at Mater Christi Catholic Primary seeks to address the individual child's needs. Support is aimed at children who require specific intervention. The intervention utilised is designed to improve the participation and learning outcomes of students. We ensure every child has an equal right to an appropriate and inclusive education in a Catholic School.
The aim of these programmes is to provide support to classroom teachers and students throughout the school and this is done in the form of developing specific programs for individual students, at their own developmental level, which enhances their learning. It may also involve extra personnel working with individual students or groups of students.
Mater Christi Catholic Primary School has the following Learning Support programs in place: Reading Recovery, MiniLit (Literacy) and EMU (Maths Recovery).
Extension Program
At Mater Christi, we celebrate the diversity and achievements of all students and encourage them to discover and perform at their potential in every domain. Exceptionally able students are supported through an approach that recognises learner needs and provides depth and complexity through stimulating, flexible, differentiated learning environments.
An Extension program is currently being run at the school where small groups of students from Years 4-6 participate in weekly sessions. These sessions are designed to challenge our gifted students and to develop their creativity and higher-order thinking skills. Students are selected for the program through specialised gifted and talented testing, in combination with input from classroom teachers.