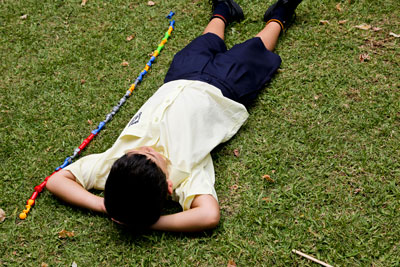 Evaluation and reporting are important elements in the teaching/learning process.
Teachers provide written reports at the end of each semester for Pre-Primary through to Year 6. In Kindy work samples are sent home throughout the year and are placed in a "Making Memories Work-Sample" folder. The collection of work-samples is an illustration of the child's learning journey throughout the kindergarten year. It is intended as a snap shot of their participation at Kindy. It acknowledges process as well as end product. Through these opportunities children will acquire key fundamental skills needed for their future schooling.
Parent-teacher interviews at the end of Term 1 provide an opportunity to share information regarding the child and their development and Term 3 portfolios also help depict a child's learning journey.
NAPLAN
NAPLAN, an assessment of literacy and numeracy, is undertaken annually by all Year 3, 5, 7 and 9 students throughout Australia.
In Primary schools, NAPLAN is made up of two assessment areas covering:
Literacy
Reading
Writing
Language conventions
Numeracy
Number
Algebra, function and pattern
Space
Measurement, chance and data.
Mater Christi Catholic Primary School 2017 Compliance Data report is prepared as a requirement for the Federal Government and is available for your information:
2017 Australian Government Compliance Requirements
Reports from 2016 AGM